The Original London Sightseeing Tour
The Original London Sightseeing Tour is a traditional hop-on hop-off open top double deck bus tour that visits most of the main London Attractions. London is a big city and full of many attractions that are spread out over a wide area.  Visiting each of these separately can be difficult to manage especially for families and older travelers. Hop-On-Hop-Off  bus tours are the fastest and most affordable way to get to know London. It is what really introduces you to this beautiful amazing city. The Original London Sightseeing Tour offers guided tours to visitors and residents atop open red buses.
About Original London Sightseeing Tour
Original London Sightseeing Tour is the only one of its kind all over the world. Other cities have come up with replicas but nothing comes close to the Original London Sightseeing Tour. The tour has been in existence for over 65 years and it gets stronger and better with the years. Introduced to the London transport first in 1951, to liven up sightseeing experiences, the tour has since adapted the new technologies in the market but remains a thrilling experience.
The Original London Sightseeing Tour uses a fleet of British made red double decker buses which offer low floor access and 95% of the tours are accessible for wheelchairs.
back to menu ↑
Routes and Times
Your Original Tour ticket gives you access to different bus tour routes around London. These routes include sightseeing tours that run at a 15-30 minute frequency. The ticket also includes connector routes which operate as a shuttle service connecting train stations and hotels.
back to menu ↑
Yellow Route – The Original Tour (T1 and T2)
The Yellow Route is the original tour and most popular, this is the perfect tour for anyone visiting London for the first time. The attractions on this tour include Tower of London, Trafalgar Square, St Paul's Cathedral, London Eye, The Shard, Tower Bridge and Leicester Square. The Yellow route crosses the River Thames twice giving you some amazing views of the London attractions. This tour operates an English Language tour (T1) and as multi languages tours (T2). The departure point of this tour is Coventry Street, Piccadilly Circus and the Yellow Tour includes 25 different stops along the route. These buses leave every 15-20 minutes so the next bus is usually not far behind.

back to menu ↑
Blue Route – The Royal Borough Route (T4)
The Blue Route is known as the Royal Borough Route and it covers the popular shopping area of Kensington including Harrods and Harvey Nicholls department stores as well as the museums in Kensington including Victoria & Albert Museum, Science Museum, Natural History Museum and Royal Albert Hall. The tour also travels along Kensington Road at the side of Hyde Park. The Blue Route also intersects with the Yellow Route around Hyde Park Corner.
back to menu ↑
Orange Route: The British Museum Tour (T5)
The Orange route or T5 is also known as the British Museum route and visits some of the most popular attractions in London including the British Museum, British Library, Chinatown, Leicester Square and Shaftesbury Avenue. This route is also a perfect way to link up with Kings Cross, St Pancras and Euston train stations providing excellent connections with the rest of London, England and Europe. If you arrive at these stations you ca switch to the Yellow route to continue the tour.
back to menu ↑
Green and Purple Routes – Capital Connector
The Green and Purple Routes are used as connectors or shuttles and are very useful if you are staying in a hotel located in Bayswater, Notting Hill, Holland Park or Lancaster Gate. It is also good for getting to Westfield Shepherds Bush for some shopping!!!
back to menu ↑
Advantages of Using Original London Sightseeing Tour
All the sightseeing buses have open sections where in a beautiful London day you can watch everything from the comfort of your seat. There are also covered sections on top of the bus for when the weather takes a turn for the worse. If the weather conditions get too windy or too cold, you can move downstairs and see all the sites from a warmer section on the lower deck of the bus.
Orientation
We recommend that first time visitors to London use these tourist buses to get a good orientation of the city. Get on board early and just follow the entire tour through all the stops. You can then plan what you would like to see next time round. This approach makes you feel like you already know London even if you are visiting for the first time.
Family Friendly
The
Original London Sightseeing Tour
is perfect for families, and your kids will love traveling on the double decker bus.  The tour gives kids on board free packs for kids club activities, these packs contain an activity book that comes with trivia games that revolve around the city and a passport. You can also take your time and skip attractions if the kids are settled.
Cheap and Convenient
Instead of taking, a taxi, train or traditional bus and visiting individual attractions which can become quite expensive, the sightseeing tour allows you to buy 1 ticket and see multiple attractions over a period of time. Once on board you can sit comfortably and get off at any attraction that interests you most and hop back into the bus to continue with your tour.
Commentary
The on board guide gives excellent commentary of all the attractions as you pass and details on each stop. If you are not an English-speaking person, the commentary about everything happening around you is available in more than 10 languages.The digitally recorded commentaries are extremely easy and clear to listen to even for first time visitors to the city.
Affordable prices and attractive packages
Original London Sightseeing Tour prizes are very affordable. If you apply online, you even get discounts. The packages that come with the tour are; kids free packs, with every original tour ticket, you get complimentary tour inclusions that include a River Thames cruise and three walking tours including Changing of the Guard Walk, The Rock and Roll Walk and Jack the Ripper Walk.
On the Original London Sightseeing Tour you will have the chance t see some of the best London attractions, the tour is designed to visit all the most popular while also stopping near some less popular attractions and providing easy access. If you tried to visit these attractions individually it could take you days of planning and lots of money in transport.
Tower Bridge
Westminster Abbey
The London Eye
Big Ben
Buckingham Palace
Trafalgar Square
Hyde Park
Harrods
St. Paul's Cathedral
Piccadilly Circus
Madame Tussauds
and many many more.
With over 65 years' experience, the Original Tour offers one of the best sightseeing tours in London and is perfect for new or returning visitors. You get to learn a lot of history of London from very friendly tour guides while visiting some of the best attractions in safe and comfortable buses.
back to menu ↑
Different Tour Options
Depending on the length of time you have in London you have different ticket options, there is a short one day City Sampler ticket, 24-hour Ticket, 48-hour Ticket and a 72-hour Ticket which give you unlimited hop-on, hop-off access to our buses for a set amount of time,
back to menu ↑
Buy Tickets
The Original London Sightseeing Tour
See the capital's top attractions with London's Original Hop-on Hop-off Bus Tour. Stop by Buckingham Palace, Westminster, Piccadilly Circus, London Eye, Tower of London, the River Thames and much more. Get free walking tours and a Thames River Cruise Pass
Panoramic tour of the most famous places in London, including Kensington Palace, Parliament Square and Westminster Abbey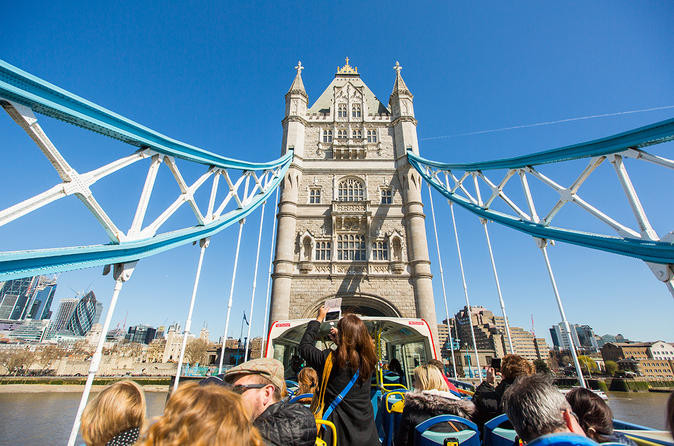 Discover top London attractions at your leisure on this flexible open dated hop-on hop-off sightseeing tour of London
Last update was on: November 29, 2020 6:39 pm
London Tours